Please Welcome Artist, Grace Lauer from the Uniquely Grace blog www.uniquelygrace.com who will share her latest upcycle furniture flip! Grace's specialties encompass furniture flipping, interior design, henna tattoo art, scrapbooking, and upcycled artwork.
Her work is amazing and I just had to share her with all of my readers. Another thing I am falling in love with this month, other amazing creative types and bloggers. Community is so important! If you want to follow Grace on social media, please see the links below to do so.
Blog : Etsy : Pinterest : Facebook : Twitter : Google+ : Instagram
---
Hello Arts & Classy readers!
I am so happy to be part of the blog today. My name is Grace and I love flipping furniture. I am very excited to show what I did with a beat up, worn down, glittered and painted on dining room table.
I snagged this table right off of one of the local Facebook selling sights for a whole $20! Yup, so cheap… but wait there is more… when all the sawing was done I would up with 4 pieces to upcycle! So really this project I am sharing with you started with a $5 piece of a dining table.
This table took some good ol' elbow grease to get it nice and clean. Turned out one of the reasons it was just $20 was not only the way it looked but it was caked with tar and cat smell… guess what that is… ewwww… Let's get right into how this became what it is today, shall we?
Step 1 Breakdown and Wash: Washing it down with a 50/50 vinegar/water mixture after I dismantled it as far as my screwdriver could take it, I scrubbed till it was clean, took several buckets. I began this step right after the guy dropped it off for me. Wet wood caked with tar and cat… you know… dose not smell good!
Step 2 Waiting: Sun bathing … not me! It's way to cold for that! But nothing gets that smell out of wood like some good ol' vitamin D. That is right the sun will do wonders in a few days to get rid of most of that smell.
Step 3 Cutting: Bring out the "Beast", that is what I call my yard sale table saw. It is massive. I measured the depth I wanted the new entry table to be and set my settings on my saw guide. Raised the blade to the max height to be able to cut through the sides then cut right through creating 4 pieces. Two capable of being an entry way table and two large flat pieces (from the center of the table I will use to create some kinds of word or phrase art later on).
Step 4 Sanding: I need to smooth out some of the old finish, dents, chips and scratches. I like my pieces distressed but this $5 piece of a table was in need of some prep work.
Step 5 Painting: I love to use chalk paint and wax. There is just a richness to the way it turns out. The brand of chalk paint is up to you but I used a off white and faded it to a taupe on the legs and a rich red on the table top. The legs were also faded with an antique gold shimmer glaze and the top was aged with a hazelnut tinted wax. Wait for it to cure!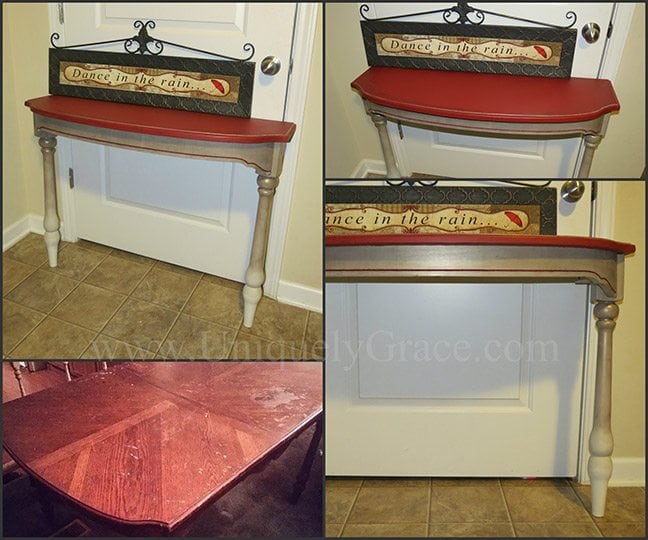 Step 6 Hang It Up: Yes, you have to hang this piece on the wall. After all it only has two legs. The key here is to make sure the table surface is level before you screw it into the wall.
 A quick recap of the price:
Part of a Dining table: $5
Chalk Paint, wax and glaze: $10 (used a little bit from each color)
There you have it! $15 for this narrow (which I needed) entry way table, perfect for my space. CAN'T BEAT THAT!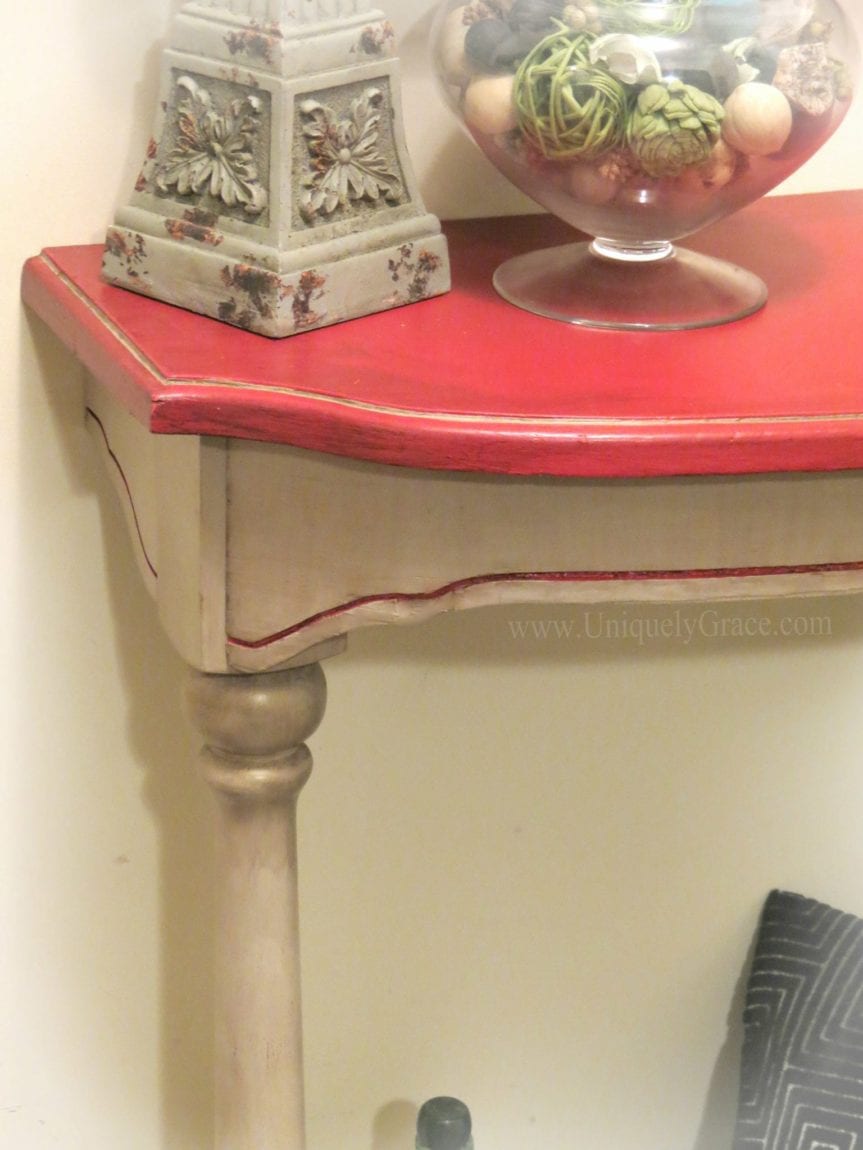 Thank you so much Meredith for having me over here on your blog today. I am honored to be featured here.
---
Isn't Grace amazing?? Thank you so much for sharing your project with us and your step my step process in creating your new entry way table Grace! I love when people think outside the box!
Are you interested in guest posting at Arts & Classy? If so check out my guest post page for all the details and application to send my way!